The Ancient House, Ipswich, also known as Sparrowes House, is a Grade I listed building dating from the 15th century located in the Buttermarket area. In 1980 the building was acquired by Ipswich Borough Council.
The building sports detailed pargeting, and also elaborate wood carvings around the front of the house. Four panels of pargeting show a Tudor impression of the world. The continents Africa, America, Asia and Europe are shown - notably lacking Australasia which was not discovered at the time.
Africa is represented by a naked man holding a spear, Asia by a horse and a mosque-like building, Europe by a woman with a horse and castle, and America by a man with a dog at his feet.
The front of the building as it can be seen today (in a restored state), was not an original feature of the building - it was later added by Robert Sparrowe between 1660 and 1670. It bears the Royal Arms of King Charles II, and the words "honi soit qvi mal y pense". This is old French for "shame upon him who thinks evil of it", and is also the motto of the Order of the Garter.
The Ancient House
The Ancient House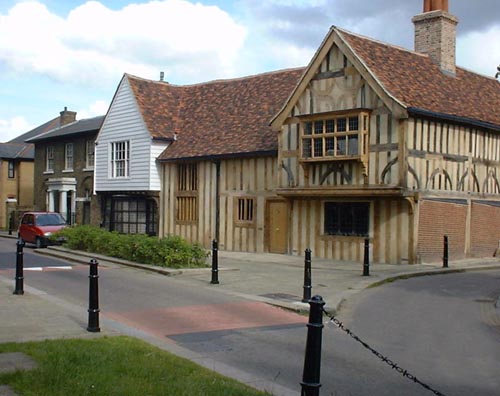 The Ancient House
The Ancient House
The Ancient House